The Academy of Interactive Entertainment's students and staff visited 343 Industries, the studio most known for the Halo series (the studio is also named after a Halo character: 343 Guilty Spark.) The tour included an exclusive Q&A panel with 343 Industries staff. The Q&A covered a wide range of topics, from concept art to engineering to production. Of particular note, at the height of Halo 5's production, 343 Industries employed roughly 80 in-house environment artists, presumably many more in contract positions.
The 343 Industries-delivered Q&A panel closed with advice on how important it is to network in the video game industry, and to take advantage of conventions, local mixers, and workshops. These types of events are made readily available from the Seattle video game developer community, including AIE-hosted events.
After the Q&A, students and staff were led to the testing lab. Students and staff were split off into teams with some of the 343 personnel, and took part in a 16-player LAN party, playing intense rounds of death match mode featured in Halo 5.
At the close of the tour, students and staff visited the Halo Museum. Being a 20 year-old franchise, Halo has a lot of history surrounding it. The museum featured suits used in advertising, promotional Halo Mountain Dew, Halo-fied LEGO reproductions, and showcased several life-scale figures, weapons, and a fan-made vehicle.
Being a proud partner of 343 Industries and having Alejandro Rodriguez (343 Industries Recruiting) as a part of our awesome Advisory Board Committee, we want to thank the team at 343 Industries for giving AIE students and staff a better understanding of the culture at 343.
For students who are starting their education with us in August, you'll be happy to learn that 343 Industries is just one of many AIE graduate destinations. If you would like to learn more about our partnerships and other potential career paths our alumni have made for themselves, visit our Graduate Destinations.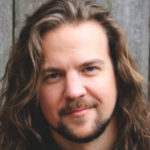 About the Author: Ian Rich
(Communications Coordinator) Seattle Campus
Ian Rich is an established gaming-focused technical artist himself, he completely understands what the next generation of industry professionals want to learn. Prior to AIE, Ian has taught Game Art and Game Programming skills to high school students at the Skills Center in Ballard. When he's not meeting new students, he creates games on the side, takes care of his awesome mane, and works full-time being the world's coolest dad.