John De Margheriti
Chairman and CEO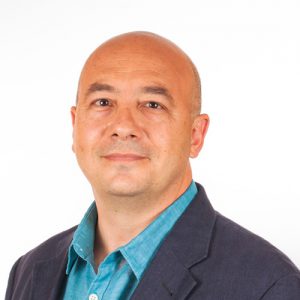 John is a true entrepreneur, visionary and one of the most motivated and passionate people in the Australian game development industry. After co-founding Micro Forté Pty Ltd in 1985 (a veteran Australian game development studio), John set out to establish a training institution that would specialise in supplying industry ready artists, programmers and developers for the creative digital industries.
John did this by establishing the Academy of Interactive Entertainment as a not for profit educator in 1996. The campus was strategically co-sited with Micro Forté Pty Ltd and has been producing top quality, industry ready graduates ever since!
Today, AIE has five campuses in Canberra, Melbourne, Sydney, Seattle, Lafayette and Online. The AIE has gained much recognition as a leading educator for game development and 3D animation.
Johns is also the founder and Chairman of Canberra Technology Park (CTP), the Australian Game Developers Conference(AGDC), and BigWorld Pty Ltd (a Massively Multiplayer Online game middleware company).
John also founded the Game Developers Association of Australia (GDAA) at the inaugural AGDC in 1999, and acted as one of its main financial backers and treasurer until late 2005 when he resigned from the board to focus his energies on expanding BigWorld Pty Ltd. In December 2005, John also announced the closing of AGDC, Australia's most successful and well known Game Developers Conference to provide the GDAA an opportunity to run an industry conference.
Vicki De Margheriti
CEO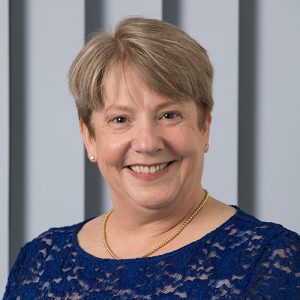 Vicki has over 25 years experience managing companies and facilitating business and industry growth in the games development, 3D animation and visual FX industries. She is the CEO of the Academy of Interactive Entertainment Ltd (AIE) and has been involved in the operations and strategic planning of all of its business units, including Canberra Technology Park (CTP), as a Director and Co-founder since its inception.
Vicki is a member of the Australian Institute of Company Directors and has been a Director on the board of games studio Micro Forté Pty Ltd and middleware developer BigWorld Pty Ltd. Vicki believes in equipping people with the skills, knowledge and confidence to follow their dreams. She thrives on providing a fun, creative and motivating work environment that is conducive to learning and allowing staff and students to achieve their full potential.
Vicki has seen the AIE grow from a single classroom in partnership with CIT in 1996, to an international success with campuses in Canberra, Sydney, Melbourne, Seattle, Lafayette and Online. She looks forward to managing AIE's future expansion plans and its ongoing contributions to facilitate industry growth in Australia and abroad.
Ursula Frank
Head of School – Seattle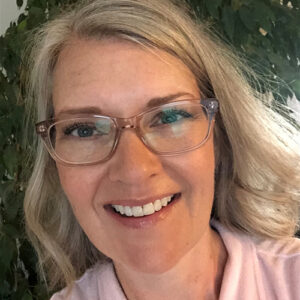 Ursula has over 20 years working in higher education. After earning a Bachelor of Science degree in Mathematics at Lewis & Clark College in Portland, OR, Ursula, a Seattle native, took advantage of the amazing video game and software development network and opportunities in the Seattle area.
Out of college she landed a job with a small startup software development company developing cutting edge video games. Seeking a deeper human connection in her work, Ursula eventually left software and game development to pursue a career in educational management. After running operations at several higher education vocational schools, she has come full circle to work at AIE.
She now has both her love for the entertainment industry and her passion for education aligned. Ursula loves watching students gain that "AHA" moment when a concept or problem finally clicks, and students light up with the surprise and pride of truly understanding. The creativity, beauty, and hard work involved in creating a video game is breath-taking and awe-inspiring and Ursula intends to remain a part of it for a very long time.
Robin L. Couvillon
Head of School – Lafayette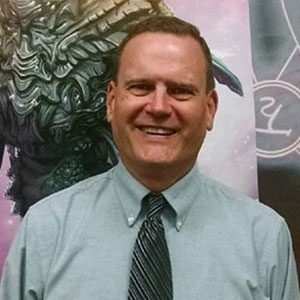 Robin Couvillon, joined AIE in 2014 after 3 years of leading a Cultural Activities Center in Temple, Texas.
Robin has extensive expertise in education and project management. He has spent over twenty-five years in teaching and administration of higher education, secondary and elementary schools. Prior to education, Robin worked in business as a project manager for engineering companies and a project administration for fabrication and construction companies.
Robin is a St. Bernard Parish native. He attended Southeastern Louisiana University and received a BA in Urban Planning with a minor in computer programming.
Robin is passionate about creativity and about the educational opportunities AIE has to offer in preparing students for exciting careers in the video gaming industry and the world of movie making. As a lifelong learning and educator, Robin knows the importance of allowing students the opportunity to learn the skills to develop their own creativity and to grow their knowledge in their chosen path in the fields of video gaming and movie industries.