What to Do When You're Not Ready to Apply to College
Whether you have yet to graduate from high school or you need some more time to decide on a major, you might have wondered what to do when you're not ready to apply to college. No matter the case, college is likely your next step.
Define your financial means and establish a steady income.

Even if you start working part-time, it's never too early to open a savings account, especially if you're living at home. Just be sure to communicate with your parent or guardian that you're having thoughts about college. Working part or full-time may not give you the freedom to create whenever you want, but it will help build a routine. Having a set routine is essential when you start college, and a job is especially nice if you haven't taken out financial aid for an added living expense.
If you do plan on moving out for college, consider an apartment and when to start your search for roommates. Most colleges have set Facebook Groups to help incoming students to connect with other incoming, current students, or sometimes even alumni. Sharing an apartment with other students is typically the best way to go in this scenario, especially since a few of them might even be your classmates!
Start building your portfolio and find a mentor along the way.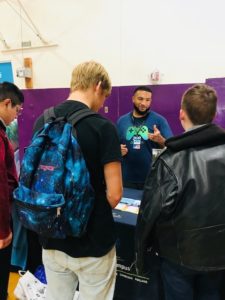 Not sure if you're ready to study at the college-level? What if you're not sure about making the financial or time commitment to college? Are you completely sure that you want to pursue that field of study, or have you given thought about other pathways? Many colleges offer introduction courses in the fields of study you are interested in. This is also a great way to test the waters and to find out whether you're ready for college. It's also a great way to find out if this field of study is something you want to continue to pursue.
This also gives you the opportunity to find a mentor that you can speak with about the field of study you're looking to pursue. Instructors who teach introduction courses are individuals who are passionate about their craft who are ready to offer advice, and talk about their experiences working in the field you are interested in. Colleges also offer deep discounts for those in high school.
Leisure time is the best time to learn.

What do you do in your spare time? It doesn't have to be related to the major or program you're interested in, or it can be in some way. Many of our Game Design & Production students host their own Dungeons & Dragons games, while our VFX and Game Art students livestream their drawing on Twitch, then archive them on their Youtube channel. Since the video game and VFX fields are global industries, some students decide to pick up a secondary language.
If you want to take a break from the computer screen, why not get into silk-screening? Knowing how to create your own t-shirts will allow your future game development team to create their own merchandise. Some students who are musically-talented learn sound recording to create their own film and video game soundtracks, or they see it as an opportunity to practice voice-acting skills.

A lady knight and her faithful steed created by Kylie Walker (Game Art & Animation)